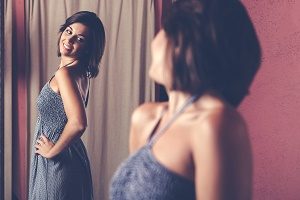 Your Brazilian butt lift is around the corner and you're wondering when, after the procedure, will be the best time to go shopping for new clothes that flaunt your curvaceous figure.
Not so fast! Here are some things to consider beforehand.
Heal Up First
Your initial healing period should last about 2 weeks, during which time you'll need to stick to recommended clothing. This includes wearing a compression garment at the donor site where liposuction was used to collect the fat cells — you may notice some initial swelling in the donor areas, too.
Before you start buying new clothes, make sure you're looking at your final results.
Additionally, the immediate results from your BBL are likely much more pronounced than your final look will be. Dr. Andan overfills initially to account for the percentage of fat cells that don't successfully transfer to the target area, roughly about 30 percent.
Enjoying Your New Look
To get the most from your BBL, be sure to follow all the recovery instructions from Dr. Andan, including keeping up with your follow-up visits. And don't hesitate to ask him or her directly when it's a good time to go shopping after your BBL — Dr. Andan will let you know when the time is right, typically several weeks after your surgery.
It takes time to determine your new shape, so you might want to hold off on your shopping spree for now. Unless, of course, you're okay stocking up on loose-fitting sweatpants to start — but that's probably not what you had in mind!