Mommy Makeover with Lipo and BBL
Consultations offered at our two convenient locations in Manhattan and Long Island, NY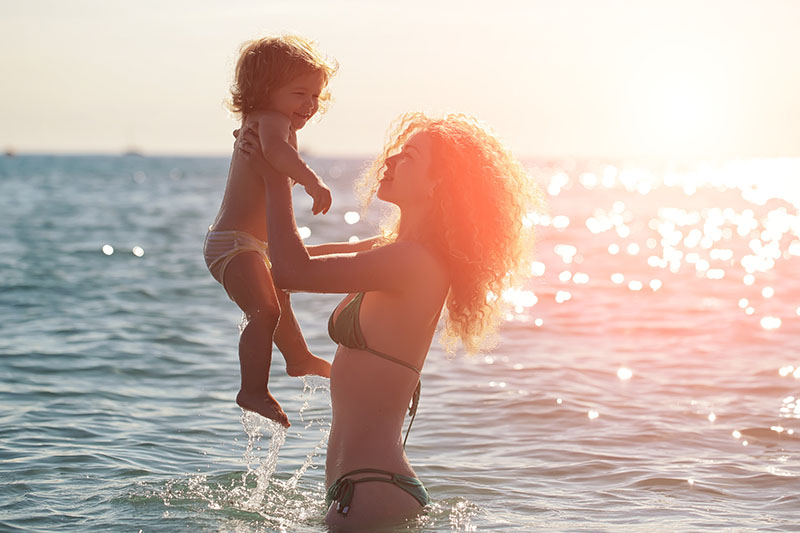 Achieve Your Best Post-Baby Body! Mommy Makeovers are multi-procedural surgical approaches that turn back the clock on the bodies of women who want an overall body transformation. These body-contouring improvement procedures are becoming more popular among women – not just mothers! – striving to regain their youthful physique. A Mommy Makeover typically includes a Breast Lift, Tummy Tuck, Liposuction, and Brazilian Butt Lift, also called a Fat Transfer to the buttocks. This combination of procedures helps mothers regain their confidence by capturing a tighter, sleeker body. At NY Surgical Arts, we understand that every mother is different and will have different goals for their Mommy Makeover. But when the goal is earth-shattering gorgeous, patients in New York and New Jersey know where to turn.
Dr. Gordon Andan, MD, is a premier board-certified New York cosmetic surgeon and is sought after by patients from around the globe for his groundbreaking techniques. His Mommy Makeover with Lipo and BBL elevates the typical Mommy Makeover to create a divine silhouette. Don't moms (and all women!) deserve to look and feel their best? We think so. If you're ready to learn more about Dr. Andan's techniques, call our New York or Garden City offices at (516) 746-0155 or fill out this form to receive a returned call.
On our blog, you can find posts on various topics related to cosmetic surgery. Follow us to learn more!
Before and After Photos
About Dr. Andan's Mommy Makeover
Many surgeons across the U.S. offer the Mommy Makeover, but what sets Dr. Andan apart is his two-staged approach to crafting your dream body. His techniques ensure that you heal correctly and that the results are incredibly powerful. While Dr. Andan's two-part approach requires more time for recovery, he knows that the most crucial thing is long-term patient satisfaction. His patients recover from their procedures and show off killer bodies for years to come. Don't be surprised if, after surgery, people mistake you for the nanny; there's no way you've had children with that body!
Stage One
The first stage of the Mommy Makeover with Lipo and BBL is for Dr. Andan to perform a Breast Lift and Tummy Tuck. A Breast Lift or Mastopexy takes care of any drooping or ptosis (sagging) patients have due to pregnancy and breastfeeding. Of course, as we've mentioned, sagging breasts are not exclusive to moms. Many women experience volume loss in the breasts after weight loss or age. In fact, The American Society of Plastic Surgeons reports that Breast Lifts have increased by 70% since 2000. [1] However, it is important to note that to perform a Breast Lift; there must be adequate tissue to lift. If there is insufficient tissue, Dr. Andan may suggest Breast Augmentation with implants.
The Tummy Tuck is the bread and butter of the Mommy Makeover; this procedure will help you achieve a tight and toned tummy by removing excess skin and fat and tightening the abdominal muscles. This abdominal separation, known as diastasis recti, is a condition that can occur during or after pregnancy, resulting in the separation of the abdominal muscles, which can cause a bulge in the stomach area. [2]
Stage Two
Once you've healed from your initial procedures, it's time for stage two. Of course, you'll already look incredible from the front, but what about the back? To address the butt, Dr. Andan will first perform Liposuction, which will help improve your contours overall. Then he will use the removed fat for your BBL. His goal for your Brazilian Butt Lift is not necessarily a bigger butt but a nicely sculpted butt to match the rest of your new body.
Proportions are a big thing for Dr. Andan; he will ensure your proportions are in perfect harmony before he signs off on the surgery.
Benefits of Mommy Makeover with Lipo and BBL
Improve the appearance of the breasts
Regain confidence
Improve the appearance of the stomach
Improve the appearance of the buttocks
Regain the sexy contours of youth
Look and feel better in your clothes
Increased intimacy after children
As you can see, there are many reasons to seek out a Mommy Makeover with Lipo and BBL. But the best reason is that you deserve to look and feel your best. You've been through a lot, and now it's time to take care of yourself. Self-care affects not only the patient but everyone in her life.
Candidates for Surgery
Patients considering these procedures must meet specific criteria to be eligible for surgery. These include:
No plans to have more children
Be at a stable weight for at least six months
Be done breastfeeding
Have realistic expectations for the surgery
Patients who will see the best results fall within the 35 to 48-year-old range, but Dr. Andan can achieve beautiful results on patients of various ages and body types.
Health and Safety First
While these procedures are considered safe, as with any surgery, we must consider certain risks and side effects. Patients should be healthy non-smokers who can take the required time off work and other commitments for recovery. Remember, you are advised not to lift your children while you recover, so you must consider how much help you can expect after not one but two surgeries.
Dr. Andan is a highly experienced cosmetic surgeon who has performed countless Mommy Makeovers with Lipo and BBL. Contact Dr. Andan's office today to schedule a consultation if you're considering a Mommy Makeover. He will be happy to answer any of your questions and help you on your journey to a new you. Call our office at (516) 746-0155, and we will be happy to schedule your appointment.
Personal Consultation with Dr. Andan
During your consultation with Dr. Andan, he will:
Conduct a physical examination
Evaluate your medical history
Discuss your goals for the surgery
Develop a personalized surgical plan
Answer any of your questions
Dr. Andan will take the time to get to know you and your goals for the surgery. Then, he will develop a customized surgical plan to help you achieve your desired look. When you leave your consultation, you will most likely have a surgical date and the knowledge of how to prepare for surgery and recovery. We at NY Surgical Arts are here to help you every step of the way. Call us with any questions that arise as you await your surgery date.
Preparation for Surgery
Leading up to your Stage One procedures — Breast Lift and Tummy Tuck — there are things Dr. Andan will ask you to do to prepare; this includes:
Get a mammogram (if you haven't had one in the past year)
Get lab work done (blood work, EKG, etc.)
Stop taking certain medications and vitamins (ibuprofen, aspirin, fish oil, vitamin E, etc.)
Stop smoking (at least four weeks before surgery and four weeks after)
Avoid alcohol (at least one week before surgery)
Arrange for someone to drive you home after surgery and stay with you for at least the first 24 hours
Arrange for help at home with your children
Preparing for your surgery is crucial to ensuring a smooth and successful surgery and recovery. Dr. Andan and his team will give you specific instructions on what to do to prepare for your particular procedures.
Then, when you are recovering from your Stage One procedures, you will need to take it easy and let your body heal.
You will prepare for Liposuction and BBL by:
Resting and sleeping as much as possible
Eating healthy meals
Wearing loose-fitting clothing
Avoiding strenuous activity
Taking your prescribed medication
Arranging for a ride home from surgery and for help on the first night after your procedure
Ask for help with the children and housework.
Again, following these instructions is crucial to ensuring a smooth and successful surgery and recovery.
Stage One Procedures
Here are the procedures Dr. Andan performs on your first of two surgical dates:
Breast Lift
The Breast Lift procedure elevates and reshapes the breasts by removing excess skin and tightening the surrounding tissue to create a more youthful appearance. Dr. Andan does this by making incisions around the areola, down the front of the breast, and sometimes along the crease underneath the breast. He will then remove any excess skin and reposition the nipple-areola complex. [1] The incisions will be closed with dissolvable stitches and surgical tape, and a support garment will be placed around your chest to minimize swelling and support your breasts as they heal.
Tummy Tuck
The Tummy Tuck or abdominoplasty procedure removes excess skin and fat from the abdomen and tightens the abdominal muscles. A Tummy Tuck is usually done by making an incision along the lower abdomen, from hip to hip, to remove excess skin and fat and tighten the abdominal muscles. [3] The incisions will be closed with dissolvable stitches and surgical tape. We will fit you with a support garment around your abdomen to minimize swelling and support your incisions as they heal.
Stage Two Procedures
Once you have healed from your Breast Lift and Tummy Tuck, you will revisit Dr. Andan for your stage two procedures.
Liposuction
Lipo is how Dr. Andan further contours areas of the body not addressed by the Breast Lift or Tummy Tuck, such as the:
Arms
Back
Abdomen
Hips
Thighs
Liposuction is done by making small incisions in the treatment area and inserting a cannula, a thin tube connected to a suction device. The cannula is then used to break up and remove the unwanted fat cells, which will be used for the BBL.
Brazilian Butt Lift
The removed Liposuction fat is purified and injected into the buttocks to create a fuller, more youthfully lifted butt.
Stage One Recovery
Recovery from the Breast Lift and Tummy Tuck
You will likely feel some discomfort, which we will help you manage with medication. You may have drains inserted to help with fluid buildup, but Dr. Andan will remove them a few days after surgery. You will experience some swelling and bruising, which will subside over time. Sleeping on your back and avoiding strenuous activity during this time is essential. Most patients take about two weeks off from work to recover. You mustn't lift your children during your recovery until cleared by Dr. Andan to avoid complications.
Stage Two Recovery
Recovery from Liposuction and Brazilian Butt Lift
Dr. Andan offers traditional Liposuction and Vaser Hi Def Lipo. Vaser Hi Def Lipo uses sound waves to liquefy fat before removing it. [4] Dr. Andan will determine which procedure best suits your treatment areas. 
After Liposuction, you may expect some swelling, bruising, and discomfort. After the procedure, Dr. Andan will give you specific recovery instructions, including when and how to use your compression garment. Most patients require a few days to a week off work after liposuction. In addition, for several weeks, you will need to avoid sleeping on your back and extended periods of sitting, which can negatively affect the results of the BBL.
Patients must take it easy and avoid strenuous activity and heavy lifting with all of the procedures in their Mommy Makeover package.
Results of Mommy Makeover with Lipo and BBL
The results of your procedures will depend on your individual goals and expectations. Dr. Andan will do his best to ensure you are happy with your results. Patients generally expect to see a more youthful and contoured appearance.
Patients who have a Mommy Makeover with Lipo and BBL can expect to see:
Smoother, tighter skin
Elevated and reshaped breasts
Reduced abdominal bulge
A more shapely and proportionate figure
If you are unhappy with your post-pregnancy body, a Mommy Makeover with Lipo and BBL may be right for you. Dr. Andan is a skilled and experienced cosmtic surgeon who can help you achieve your desired results.
What is the Cost of a Mommy Makeover in Manhattan?
As with most procedures, the cost is determined by the case's specifics. Dr. Andan will develop a personalized treatment plan based on your goals and expectations. He will then provide you with a detailed estimate of the cost of your procedure.
References