Dermal Fillers
Consultations offered at our two convenient locations in Manhattan and Long Island, NY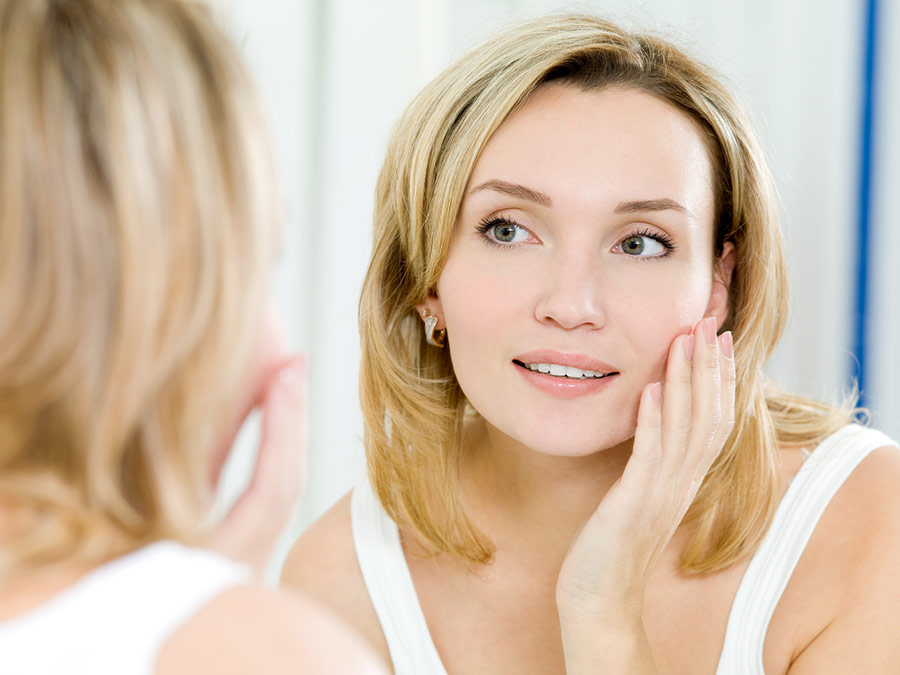 Dermal fillers are injectable cosmetics that can help make your face look younger by diminishing lines and adding volume and fullness. As we age, our faces naturally lose subcutaneous fat, which pads the facial muscles below. With less of this padding, smile lines and crow's feet become more apparent as the years go on. Additionally, the skin stretches a bit over time, further contributing to that loss of youthful volume in our faces. Aside from natural aging factors, things like sun exposure, heredity, and lifestyle choices affect how our faces hold up against time. But with dermal fillers, patients can see the benefits of a facelift without ever undergoing a surgical procedure.
Cosmetic surgeon Dr. Gordon Andan is recognized as a top name in surgical and non-surgical facial rejuvenation. A skilled injector, Dr. Andan is also a diplomate of the American Board of Cosmetic Surgery, which means he has achieved excellence in facial injectables. Manhattan and Long Island residents can see the incredible results of dermal fillers for themselves; the first step in achieving your ideal look is to talk one-on-one with Dr. Andan. Contact us today or call 516-746-0155 to request your consultation.
About Dermal Fillers
Dermal fillers are composed of natural or synthetic materials that are injected into the skin to restore volume and fullness. Injections using dermal fillers can
Temporarily reduce wrinkles
Add youthful contours to cheeks, lips, and other areas of the face
Diminish the appearance of scars
Restore volume
Create firmer, fuller-looking skin
Fillers are made of different materials so let's look at each of the fillers Dr. Andan uses to understand better which one might be right for you.
Restylane®
Restylane is loved by many for its ability to fill in facial creases and add fullness. Its most popular use is smoothing out the nasolabial folds (the wrinkles that go from your nose to the corners of your mouth). Restylane (and Restylane Silk) are made from a natural substance called hyaluronic acid (HA), which your body already produces.
Restylane® Silk
Restylane Silk is another HA injectable filler, but this one volumizes thin lips, smooths out wrinkles around the mouth, and treats vertical smoker's lines. With HA fillers, you can expect results that last 6–9 months. After that, your body will naturally and safely reabsorb the filler.
Juvéderm®
Juvéderm is a line of injectables used to temporarily reduce the appearance of wrinkles in the nasolabial folds, augment lips, and provide fullness in cheeks. Juvéderm and Juvéderm Voluma XC are also made from hyaluronic acid and are the only FDA-approved HA fillers lasting up to two years.
Juvéderm Voluma XC
Juvéderm Voluma XC is an FDA-approved injectable gel that lasts up to 2 years and is designed to add volume to the cheeks.
Radiesse®
Radiesse is a dermal filler that eliminates facial wrinkles and folds. The results of this injectable can last for at least one year. Radiesse is made from calcium-based microspheres suspended in a water-based gel called carboxymethylcellulose (CMC). Over time, this saltwater-based gel breaks down, leaving behind your own naturally produced collagen. [1]
Sculptra®
Sculptra is a dermal filler perfect for addressing deep lines in the nasolabial folds. Unlike other fillers that temporarily plump skin, Sculptra helps replace lost collagen, resulting in younger-looking skin lasting up to two years. Sculptra is made of poly-L-lactic acid, a biodegradable and biocompatible synthetic material often used in dissolvable sutures.
The Aging Face
As we age, it's natural for our facial tissue to thin out. Though this is a part of life, the loss of volume in our faces can cause us to look tired, aged, and hollow. Additionally, sagging skin results in deep wrinkles on the lower half of our faces. There are many reasons this happens
Decreased facial muscle tone
The effects of gravity
Prolonged or unprotected sun exposure
Genetics play a role because some people naturally have more elasticity in their skin than others
Poor diet leads to decreased collagen production
Dehydration due to lack of water intake, smoking, and other unhealthy lifestyle choices
Smoking cigarettes breaks down the skin's elastin
Stress causes wrinkles and can make existing lines look worse
Lifestyle choices, for example, excessive alcohol consumption
When you see the list compiled like this, it's no wonder over 3.4 million soft tissue filler procedures were performed in 2020 alone! [2] Aging gracefully is about more than just accepting the lines that come with time—it's about knowing there are options to help you look and feel your best. And fortunately for us, dermal fillers provide an effective and non-invasive solution to age gracefully in our own unique way (without wrinkles).
What are the Benefits of Dermal Fillers?
There are many great benefits to dermal fillers. Some of these include:
Reducing the appearance of wrinkles and lines
Enhancing facial symmetry and definition
Plumping lips for a fuller, more youthful look
Augmenting cheeks for a lifted look
Improving skin texture
Adding volume to hollowed areas in the face
Restoring facial contours and creating a more balanced look
In addition to these aesthetic benefits, dermal fillers are a low-risk treatment with minimal downtime. Your body naturally absorbs the fillers Dr. Andan uses over time, so you don't have to worry about long-term commitment. Finally, dermal fillers are a cost-effective way to improve your appearance without surgery.
The Benefits of Seeing a Surgeon for Your Injections
Although some beauty salons and spas may offer injectable treatments, it's important to visit a board-certified cosmetic surgeon with extensive experience in facial aesthetics. Medical professionals are uniquely qualified to provide you with the best possible results and ensure your safety.
Dr. Andan and his staff will take a comprehensive approach to your treatment, considering your medical history and unique aesthetic goals.
We will assess the potential areas of concern and create a customized treatment plan to meet your needs.
We will be able to identify any underlying medical conditions before proceeding with the treatment and discuss any potential risks or side effects.
Dr. Andan and his team will provide you with pre- and post-treatment instructions to help ensure your comfort and satisfaction.
You may be tempted to squeeze in a quick filler appointment at your local spa, but it's important to remember that you don't want to take shortcuts when it comes to your face. A surgeon is the best qualified to provide safe, effective treatments. Plus, Dr. Andan can advise you on other procedures that may be beneficial for you and create a comprehensive treatment plan.
The Ideal Dermal Filler Candidate
People who benefit the most from injectable fillers are individuals who, over time, develop a loss of volume in their face that results in thinning, sagging, and wrinkling of their facial features. These patients want to restore volume, improve symmetry, and reduce facial wrinkles.
Injectable fillers are not recommended for those with active skin infections in treatment, pregnant or breastfeeding women, and people on certain medications. It's important to consult with Dr. Andan's office for an evaluation before having any injectable treatments.
Personal Consultation
Dr. Andan and his team take time to meet with every single patient to understand their wants and needs better. During your consultation, we will consider your skin type, facial anatomy, age, lifestyle, and other factors before making a recommendation. We will also evaluate the areas you want to treat and help determine which dermal filler is best for your goals. After your consultation, we will create a personalized treatment plan to help you achieve your desired look.
When you visit the office of a surgeon who cares, their bottom line is not monetary – it's patient satisfaction. Whichever of Dr. Andan's treatments or procedures best suit you and your budget will be the ones we recommend.
Preparation & The Procedure
Dermal filler treatments are generally considered "lunchtime" procedures, meaning they require no downtime and should only take about 30 minutes to perform. At the time of your appointment, your skin will be cleansed, and the area to be treated will be marked with a light pen to ensure accuracy. We will then numb the area to ensure your comfort. Finally, he will carefully inject the dermal fillers into the marked areas and massage any product into the skin. By injecting dermal fillers, Dr. Andan can decrease the appearance of wrinkles, enhance facial contours and restore natural volume for a more youthful-looking complexion.
Recovery & Results
Over the following days and weeks, you may experience slight redness, swelling, bruising, or tenderness in the injected areas. However, this should subside quickly, and you should be able to return to your regular activities almost immediately.
Dermal fillers will produce immediate results, but the full effects may not be seen until several weeks later. With dermal fillers that inspire collagen production, you will see your skin improve over time. The results of dermal fillers typically last from 6-12 months or even up to two years, but this may vary depending on the product used and your unique skin type and metabolism. You may need to return for occasional top-up treatments to maintain your results.
You should notice the following:
Smoother facial contours
More flattering proportions
Sagging skin should appear naturally lifted
A more youthful look
Fuller lips
Rejuvenated appearance
More flattering contours
What is the Cost of Dermal Fillers in Manhattan?
The cost of dermal fillers in Manhattan will vary depending on the type of filler used and the number of syringes needed for your treatment. Dr. Andan and his team will provide you with an estimate of the cost of your dermal filler treatment during your consultation. For the latest pricing information, don't hesitate to contact our office.
At New York Surgical Arts, we are committed to providing patients in New York with the highest quality care and results that last. We believe in customized treatments that produce beautiful results and meet your needs. Don't hesitate to contact our office today at (516) 746-0155 to learn more about dermal fillers or any of our services. We look forward to helping you achieve your aesthetic goals!
References
Bernardini FP, Cetinkaya A, Devoto MH, Zambelli A. Calcium Hydroxyl-Apatite (Radiesse) for the Correction of Periorbital Hollows, Dark Circles, and Lower Eyelid Bags. Ophthalmic Plastic & Reconstructive Surgery. 2014;30(1):34-39. doi:10.1097/iop.0000000000000001
American Society of Plastic Surgeons. PLASTIC SURGERY STATISTICS REPORT 2020.; 2020. https://www.plasticsurgery.org/documents/News/Statistics/2020/plastic-surgery-statistics-full-report-2020.pdf