Gynecomastia
Consultations offered at our two convenient locations in Manhattan and Long Island, NY
If you're tired of seeing "man boobs" every time you look in the mirror, maybe it's time to consider male breast reduction. This guide can help you plan your gynecomastia treatment from your initial consultation to seeing your final results.
Breast reduction for men can get rid of male breasts by sculpting the chest into a more toned and masculine shape, allowing men to feel confident about their bodies again.
A well-toned chest is something many men strive for, but for many, hitting the gym just isn't enough. A number of factors can cause men to have excess fat or flab in their chests no matter how much they workout or diet. The American Board of Cosmetic Surgery estimates that around 50 percent of men are faced with a condition known as gynecomastia at some point in their lives. Characterized by enlarged male breasts, or "man boobs," the condition can cause men to feel ashamed of their bodies and prevent them from feeling comfortable in or out of their clothes.
Given the prominence of "man boobs," it's no surprise that male breast reduction is one of the most common cosmetic surgeries for men today. In fact, in 2015, for the first time, men accounted for 40 percent of all breast reduction procedures.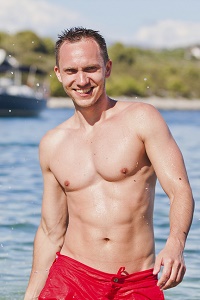 If you're thinking about planning your own male breast reduction procedure, you're not alone. Men today make up a larger percentage of cosmetic surgery patients than ever before, and those numbers aren't expected to go down anytime soon. Men get aesthetic surgery to improve anything from their personal to professional lives, and when it comes to achieving your ideal build, there's no better place to start than mapping out a plan.
Here's a handy guide to planning your male breast reduction procedure, from the beginning stages of research through your recovery.
What Is Gynecomastia?
Gynecomastia results from a hormonal imbalance between testosterone and estrogen, causing the formation of excess glandular tissue in the male breasts. Contrary to popular belief, these "man boobs" are often unrelated to body mass index (BMI), and true gynecomastia can only be treated by surgical excision of the excess glandular tissue.
Gynecomastia causes enlarged male breasts, making many adolescent and adult men feel embarrassed about their figures.
Misunderstandings about the causes of gynecomastia lead many men to feel hopeless about their figures. Someone can have the most dedicated workout routine and still have unusually large breasts, simply due to the imbalance of hormones in the body. While some men may not be bothered by excess breast tissue, others may find that their nipples chafe and cause discomfort while exercising, or that they simply cannot feel comfortable undressing in front of others due to embarrassment about their chests.
However, not all cases of enlarged male breasts are caused by a hormonal imbalance. A combination of diet, lifestyle and genetics can cause the male body to store disproportionate amounts of fat in the breasts. The fat that ends up stored in the male chest is subcutaneous, meaning it's located under the epidermis. This type of fat is your body's storage for emergency times. Consequently, it's also the last place your body will want to shed some weight. For men with "pseudo-gynecomastia," or enlarged breasts caused by fat rather than glandular tissue, weight loss doesn't always solve the problem.
Do I Have Man Boobs?
Having a prominent chest as a man isn't always a bad thing, and depending on who you ask, the verdict on whether you have "man boobs" may be different.
If you've struggled with your weight, it's very possible that you've developed flabby breasts from the expansion of fat cells. Many boys find that their breasts seem to swell during puberty, only to return to normal on their own in a matter of months or sometimes years. As men age, more of their testosterone is converted into estrogen, making them more susceptible to gynecomastia.
"Do I have man boobs?" Most men have asked themselves this question at some point in their lives.
Strengthening the pectoral muscles with chest exercises like push-ups is one way some women strive to make their breasts appear more prominent, so it's no surprise that men who hit the gym and have a strong physique may sometimes feel that their chests stick out a little too much. Typically, men who body build or workout strive for a firm, sculpted chest. If your chest looks a bit droopier than you'd like, it may be a case of the "man boob" rather than muscle definition.
Steroid use among male bodybuilders also contributes to an increase in your risk of developing gynecomastia. Steroids upset the natural hormone balance in your body, and when combined with other lifestyle factors that also affect hormones, including your diet, sleep quality and stress levels, the results can be unpredictable.
Keep in mind that the most important factor is how you feel. If you're unsure about whether male breast reduction is right for you, consider the following questions:
Does your breast tissue feel uncomfortable or move noticeably when you run?
Do your nipples chafe during workouts or your day-to-day activities?
Do your nipples or the surrounding tissue feel sore on a regular basis?
Do your nipples appear erect and puffy?
Does your breast skin or tissue sag?
Do you dread occasions where you might need to remove your shirt, like beach days or pool outings?
Are your attempts to firm up your chest with diet and exercise unsuccessful?
If you answered yes to any of the above questions, it may be time to start thinking about consulting with a cosmetic surgeon.
Finding the Right Cosmetic Surgeon
Finding the right surgeon for the job is one of the most important steps toward reaching your goals.
Cosmetic surgery today is more widely practiced than ever before and sifting through online searches to find the right match can be daunting if you don't know where to start. Here's a checklist of things to be on the lookout for when you search for your male breast reduction surgeon:
1. Experience
Training and education are important, but nothing matches the skills a surgeon acquires on the job. Cosmetic surgeons with at least a few years of experience under their belts will be better equipped for customizing your procedure for your unique needs.
2. Procedures for Men
Look for a surgeon who places importance on cosmetic surgery for men as well as for women. While women still comprise the majority of people who get cosmetic surgery, the rising demographic of men interested in looking and feeling their best cannot be ignored. Your surgeon should demonstrate an understanding of gynecomastia and male breast reduction while also helping you feel confident about moving forward with your procedure.
3. Credentials and Background
Your surgeon should have an extensive background of residencies, fellowships and training. Certification by the American Board of Surgery indicates a high level of dedication to the field, while any ongoing involvements in cosmetic surgery research or conferences demonstrate that your surgeon should be up-to-date on any recent innovations, studies and techniques.
4. Bedside Manner
Women aren't the only ones who tend to look for a surgeon they can feel comfortable with one-on-one. Patient-surgeon communication is a cornerstone of the art of cosmetic surgery, and finding a surgeon who makes you feel good about your decision can help keep the lines of communication open so you aren't hit with any last-minute surprises.
5. Before-and-After Photos
Real patient before-and-after photos can show you the results your surgeon is capable of creating. Ask to see a photo gallery of men who have had male breast reduction performed by your surgeon. Feel free to talk with your surgeon about the aspects of the different photos that you like, the ones you don't and why.
Your Male Breast Reduction Consultation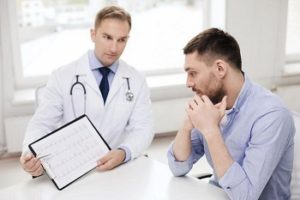 Your pre-surgery consultation with your aesthetic surgeon is the ideal time to ask any and all questions about male breast reduction you have. It's your surgeon's job to make sure that you're educated about your procedure, comfortable with moving forward and aware of your options. However, it's still a good idea to do some preparing yourself so you know exactly what you'd like to ask. Here are some pointers for acing your male breast reduction consultation:
Explain Why You're There
Explain to your surgeon why you've been considering cosmetic surgery. What are you dissatisfied with about your body? What do you hope to change? Be specific.
Ask for Recommendations
Ask your surgeon to recommend the best approach for your needs as you've explained them. Although you've probably already done a ton of independent research, your surgeon may have some insight from his or her experience and background that you don't. Oftentimes, surgeons point people toward what they feel are more appropriate procedures for achieving their overall appearance goals.
Learn about the Procedure Details
Knowing the details about your procedure ahead of time can help you rest easy in the days and weeks leading up to your surgery date. Ask your surgeon about incision placement, total procedure time, whether you will be placed under general or local anesthesia, and any other details about your male breast reduction appointment.
Reach Your Target Weight
Although not everyone who has gynecomastia or pseudo-gynecomastia wishes to lose weight, it's a good idea to check in with your body as you plan for surgery and make sure you are at a healthy and stable weight. Many male breast reduction procedures include the application of liposuction to remove excess fat cells in and around the breasts, and like all lipo procedures, you should be at your ideal weight well before your appointment. It's generally recommended that anyone seeking cosmetic surgery after weight loss reach and maintain their target weight for at least 6 months prior to surgery. This helps your weight stabilize and proves that you have the right habits to keep weight off long-term.
Of course, the food you eat is arguably even more important than your exercise routine. Maintain a healthy diet full of fruits, vegetables, lean proteins and whole grains, and be sure to get at least a couple hours of exercise each week. Stocking up on healthy foods before surgery will also keep your body (and fridge) chock full of nutrients for healing time.
Think about Additional Procedures
For some men, getting cosmetic surgery is a once-in-a-lifetime event, and it may make sense to combine your breast reduction with additional treatments so you only have to go through one recovery time.
Getting into good shape before male breast reduction can highlight other aspects of your figure you might want to improve upon.
One common addition to male breast reduction is liposculpture, a liposuction technique that uses precise manual manipulation to increase muscle definition. Liposculpture can reveal a more masculine shape to the body by bringing out the abdominal muscles, upper arm muscles or torso definition.
Nipple reduction is included in many male breast reduction procedures because the nipples of those affected by gynecomastia are often enlarged and puffy. Reducing the size of the nipples can increase physical comfort as well as improve the look of the male chest.
Finally, a defined jawline can flatter the facial features of many men who feel that they appear too soft or round in the face and neck. Double chin treatment using liposuction can diminish a double chin and create a younger, fitter appearance, while chin implants can help men gain a greater sense of definition and balance.
Getting Ready for Your Procedure
As your appointment date approaches, it's normal to feel a little anxious. Try to stay calm and relaxed with these pointers:
Avoid taking any blood thinners or drinking alcohol in the days leading up to your procedure, as they can increase your risk of excessive bleeding.
If you smoke, quit smoking at least 6 weeks prior to your procedure. In addition to vastly improving your general health, quitting smoking before surgery can minimize your risk of blood clotting and help with scar healing.
Have a friend or family member come with you to your appointment. Most male breast reduction procedures use general anesthesia, so you will likely require someone else to drive you home after you are finished. Moreover, having a loved one nearby can be soothing as you get ready for surgery.
Stock your freezer with ice packs or bags of frozen vegetables before you leave the house. You'll thank yourself when you get home for having at least several hours worth of cooling packs that can contour to your body and help reduce swelling during the first few days of healing.
Prepare an area of the house where you can relax comfortably as you heal. Stock your recovery area with your favorite books and entertainment, and make sure you aren't far from a supply of drinking water and a bathroom.
Your Male Breast Reduction Procedure
Like any cosmetic procedure, male breast reduction should be tailored for each individual.
Your exact male breast reduction surgery will vary depending on your physique and appearance goals. Although each technique may be customized for the individual, there are two common approaches to male breast reduction:
Pseudo-Gynecomastia: Liposculpture
Men with "man boobs" resulting from excess fat stored in the breasts may only require a carefully planned liposuction procedure to achieve their desired outcome. In this case, small incisions will be placed on and around each breast. Your surgeon will use these incisions to insert a small tube called a cannula, which breaks apart and removes fat cells. Your surgeon may follow by removing loose skin or any excess tissue before closing the incisions. The nipples may be resized or repositioned as needed.
Gynecomastia: Surgical Excision
Men with true gynecomastia caused by a hormonal imbalance usually require surgical excision of the glandular tissue to reach their ideal results. In most cases of surgical excision, the incisions will be placed around the areola or hidden within the natural creases of the chest. Your surgeon can then carefully remove the excess glandular tissue and skin. This technique may be combined with liposculpture for a more comprehensive approach to sculpting the male chest. The nipples are resized or repositioned if necessary.
Recovering from Male Breast Reduction
Once your procedure is finished, it's time to enjoy your results — but not before a slow and steady recovery period. Your recovery is vital to your body's health and the quality of your results, so it's no time to cut corners. Follow these tips for smooth sailing as you heal up:
Take at least a few days away from work and your normal routine. Rest is critical and it's best to stay home and close to comfort during the first few days after any surgery.
Stay hydrated. Drinking lots of water as you recover will help oxygenate your bloodstream and decrease your risk of complications.
Get enough sleep. Proper sleep levels can improve muscular recovery, hormone balancing and mental well-being, all of which will make your recovery easier.
Follow post-operative instructions. Your surgeon may ask you to wear a special compression garment to increase blood circulation, use cold compresses or avoid certain medications. It's important to follow post-surgical instructions closely and check with your surgeon if you're unsure about anything.
Avoid strenuous activities for at least 1 month after your surgery.
Life after Male Breast Reduction
Most men never look back after getting male breast reduction. As your results continue to heal and develop over the following 6 months, you should notice a more toned and sculpted look to the chest that leaves you feeling more confident about your figure. Expect your scars to undergo most of its healing over the first year following surgery, though scars can continue to fade for much longer. To minimize your chances of requiring a repeat procedure, maintain an active lifestyle and avoid drugs or medications that influence hormone levels, such as steroids.
Male breast reduction helps countless men each year feel more confident and masculine.
For many, treating gynecomastia feels like turning over a new leaf, and while severe cases of gynecomastia may require more than one surgery, the physical and psychological discomforts of a flabby or swollen chest is something you can forever leave behind.