Male Facelift
Consultations offered at our two convenient locations in Manhattan and Long Island, NY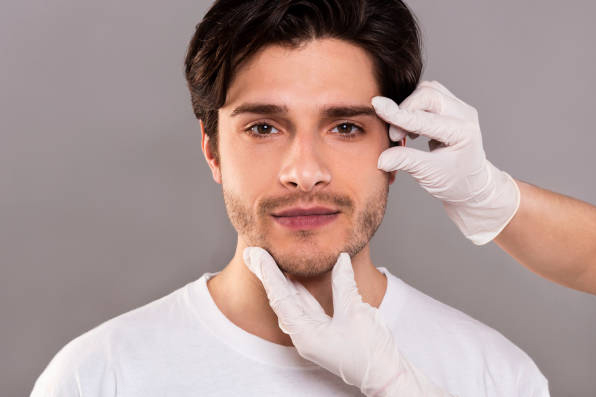 A male facelift is a surgical procedure that addresses the skin qualities that accompany aging, while paying special consideration to masculine features. Facelifts, or rhytidectomies, are a popular procedure for men and women alike. However, special care must be taken when performing facelifts on men. What can give women a smooth, delicate, youthful appearance isn't desirable for the male countenance.
An experienced plastic surgeon understands the structure of the face and can target the areas to rejuvenate and enhance masculine features.
Any good facelift is performed in such a way that the evidence of it is concealed. For facelifts on female patients, this is usually done by locating incisions behind the hairline. Since most men don't have long flowing locks to mask them, incisions must be carefully considered.
Facelifts are detailed procedures that require "the marriage of anatomical knowledge and surgical economy of skills and instruments." (1)
Dr. Gordon Andan and Dr. Carey J. Nease are talented Surgeons with the required experience to keep your unique masculine profile and restore your confidence while turning back the clock. At New York Surgical Arts, they offer innovative techniques and state-of-the-art medical facilities in Long Island and Manhattan. Contact us today or call 516-746-0155 to request your consultation.
About Facelifts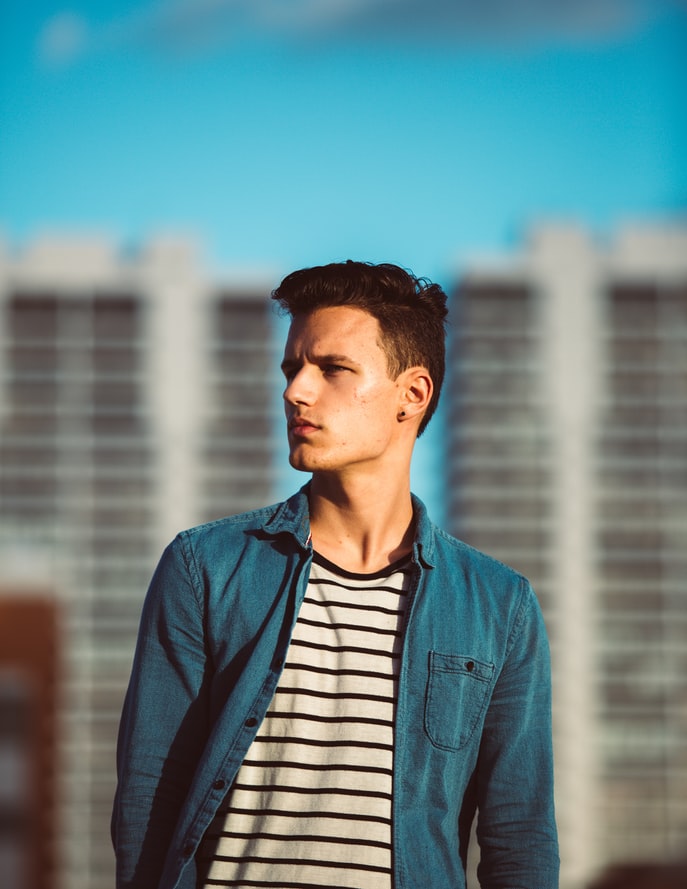 Things change as we age, including the very structure of our faces.
Facial rejuvenation procedures like facelifts are one of the many ways to restore one's definitive contours. Facelifts address skin laxity(sagging) to tighten and smooth away wrinkles. Men can accentuate a strong jawline and redefine cheekbones.
Unfortunately, there's nothing discreet about a poorly done facelift. However, a well-performed facelift uses the underlying structure of the face to create a revitalized appearance. Since plastic surgeons have a better understanding of facial anatomy than ever before, today's facelifts aren't the ones you may have reacted to in the past. For example, in the 1970s, the main technique involved stretching the skin sideways, with less than natural results. (2) Today's facelifts are different: they're smarter.
Dr. Andan and Dr. Nease use the anatomy of the face to rejuvenate men's appearances. Your unique appearance is determined by underlying structures, including ligaments. These strong bands of collagen connect facial skin to the underlying facial structure. (3) By working with and around these, your surgeon can retain and enhance what Mother Nature gave you. A small incision encircling the ears acts as a discreet access point. The result is a smoother, enhanced appearance for the entire face. To learn more about the other services that New York Surgical Arts offers, follow our blog.
Benefits
As we age, our skin produces less collagen, fat deposits become depleted, and things start to head south. This can lead to a loss of definition and a loss of confidence.
A male facelift:
Removes fat deposits for a defined jawline
Tightens musculature
Removes excess skin for a smoother, tighter appearance
Enhances masculine features
Boosts perceptions of virility and strength
Candidates
One of the most common reasons that men opt for a facelift is frustration with sagging cheeks, prominent jowls, and large under-eye bags. If these complaints are sounding familiar, you might be an ideal candidate for a facelift. Candidates for this procedure are in good general health, non-smokers, and free from other underlying medical conditions. While a facelift may very well change your life, it's also important to have realistic expectations.
A facelift will correct many of the advanced signs of aging, and the results will last for many years to come. There's no right or wrong age to undergo a facelift: everyone ages differently. The best way to determine if a facelift is right for you is to schedule a consultation at New York Surgical Arts. We can't wait to meet you.
Personal Consultation
When you arrive at our Madison Ave. or Garden City offices, you can expect a discreet yet welcoming environment. We put patients first, and your personal consultation will be an important part of your transformation. Your surgeon will perform a comprehensive analysis of your medical history and current physical features so that he can recommend the best course of action, and begin to determine the best approach. Together, you'll discuss your lifestyle and your aesthetic concerns, man to man. If you are a good candidate for a facelift, your appointment will be scheduled, and Dr. Andan and his staff will give you personalized instructions on how to prepare for your procedure.
Preparation
As with any surgical procedure, you'll be advised to discontinue certain medications and any other supplements that thin the blood. Continue your healthy lifestyle with proper nutrition and sleep – keeping your body in prime condition will allow you to heal as quickly as possible. You will also need to designate a recovery partner who can drive you home after your procedure and keep an eye on you immediately afterward.
You'll be given important and detailed instructions on how to prepare and what to expect during your recovery, so you can be confident about your decision.
Procedure
When it comes time for your big day, plan on being made absolutely comfortable and safe.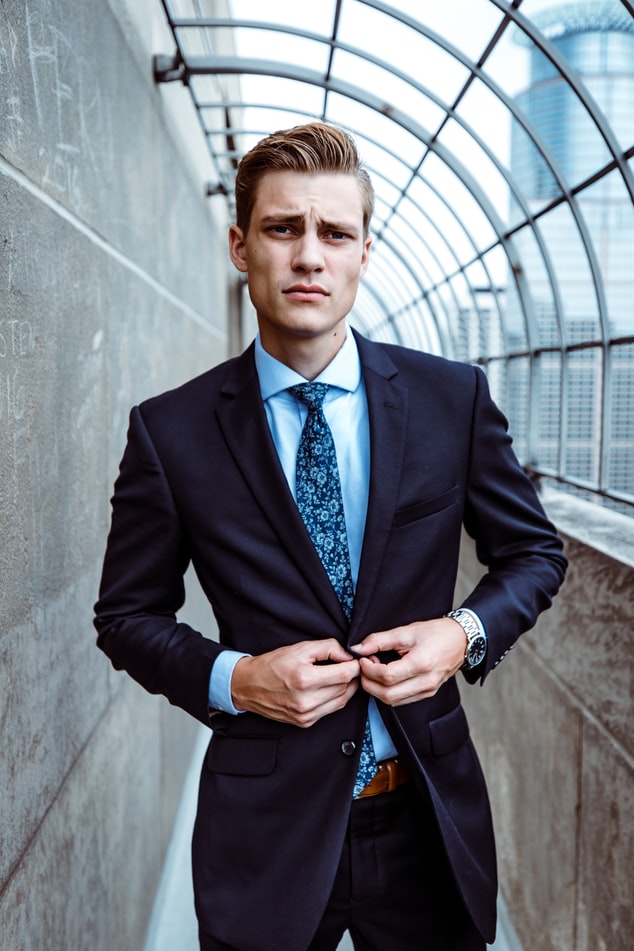 New York Surgical Arts boasts an AAAHC-accredited operating facility. This means that every aspect of your experience is approached with the highest level of care.
Before your procedure begins, you'll review the details of your facelift, and Dr. Andan will make markings on your skin to guide his incisions, and accentuate a handsome, masculine profile. You'll receive adequate anesthesia so that you'll be pain-free and resting comfortably during your procedure. Your incisions will be carefully located around your ears to allow Dr. Andan to access underneath the surfaces of each side of your face. He'll tighten musculature and remove deposits of fat to reveal the essence of your facial features. The skin is then carefully redraped, with any excess trimmed away. Meticulous sutures hold the newly smoothed skin in place, and are performed in such a way that any scarring is nearly invisible. Your facelift procedure is designed with your unique features in mind, and a natural, masculine appearance as the result.
Recovery
Once you've come out of anesthesia and your designated driver has taken you home, your recovery process will begin. You'll receive individualized follow-up care that begins with a personal phone call, and future appointments so that we can monitor your progress. The team at New York Surgical Arts is here for you, and always happy to answer any questions. Every patient has a unique recovery experience, and we want to make sure that yours is as pleasant as possible.
Plan on taking plenty of time to rest. You'll be given pain medication, although the most intense discomfort will subside after the first few days. You'll be able to resume your normal routine in a week or two. It's vital to follow all of your post-operative care instructions, including scar care to ensure satisfying results.
Results
The best facelifts go unnoticed. You'll look like a younger version of yourself.
You'll also enjoy a rejuvenated appearance, well-defined features, and smoother skin.
Regardless of the patient's gender, a facelift is a delicate surgical procedure. Skill and experience are tantamount to good, natural-looking results, as is your dedication to aftercare. Once you've eliminated the distracting signs of aging, you'll be able to focus on all of the pleasures manhood offers. To see NYSA's other satisfied patients, and hear their stories, please visit our reviews page.
Corresponding & Complementary Procedures
A facelift will address many of the unwanted signs of aging, like jowls and under-eye bags. However, a chiseled jawline isn't much use for those unhappy with their chin.  Chin implants allow patients to have balanced facial features, and satisfying proportions. If you've been unsatisfied by a weak or receding chin, Dr. Andan can accentuate this definitive part of the face for natural-looking results. Call 516-746-0155 to schedule a consultation and learn more about facial enhancement at NYSA.
How Much Does a Male Facelift Cost in New York City?
There's no one with a face quite like yours. Your unique aesthetic concerns and the techniques required will determine the ultimate cost of your facelift. The face is a prominent and invaluable part of the body. Investigating facial rejuvenation procedures is not the time to be frugal. That being said, the team at New York Surgical Arts is happy to help you through the billing and financing process and has specials and financing options available to make your aesthetic goals a reality. 
FAQ
What's different about a male facelift?
A facelift performed on a man takes male facial structure into consideration. It focuses on defining the jawline and preserving strong features. 
Will it be obvious that I've had a facelift?
Well-conducted facelifts are not obvious. When you choose a talented and experienced surgeon, you can plan on looking like a younger version of yourself. Incisions are camouflaged around the ears and sutured in a way that minimizes scarring. 
References
Frey JD, Zide BM. Ten Tips Based on Anatomy and Design to Refine Face and Neck Lift Surgery. Plast Reconstr Surg Glob Open. 2020;8(5):e2791. Published 2020 May 14. doi:10.1097/GOX.0000000000002791
Lamb J. Volume Rejuvenation of the Face. Missouri Medicine. 2010;107(3):198-202. Accessed May 24, 2021. https://www.ncbi.nlm.nih.gov/pmc/articles/PMC6188315/
Alghoul MS, Codner M. Retaining ligaments of the face: review of anatomy and clinical applications. Aesthetic surgery journal. 2013;33(6). doi:10.1177/1090820X13495405