Abdominal Liposuction
Consultations offered at our two convenient locations in Manhattan and Long Island, NY
Abdominal liposuction is a surgical procedure that removes excess fat from the abdomen using advanced lipo techniques. The procedure is commonly performed on patients who have tried to lose weight through diet and exercise but have been unsuccessful or on patients who want to take their midsection to the next level. Today's liposuction can provide patients in Manhattan, Long Island, NYC, and beyond with results that must be seen to be believed.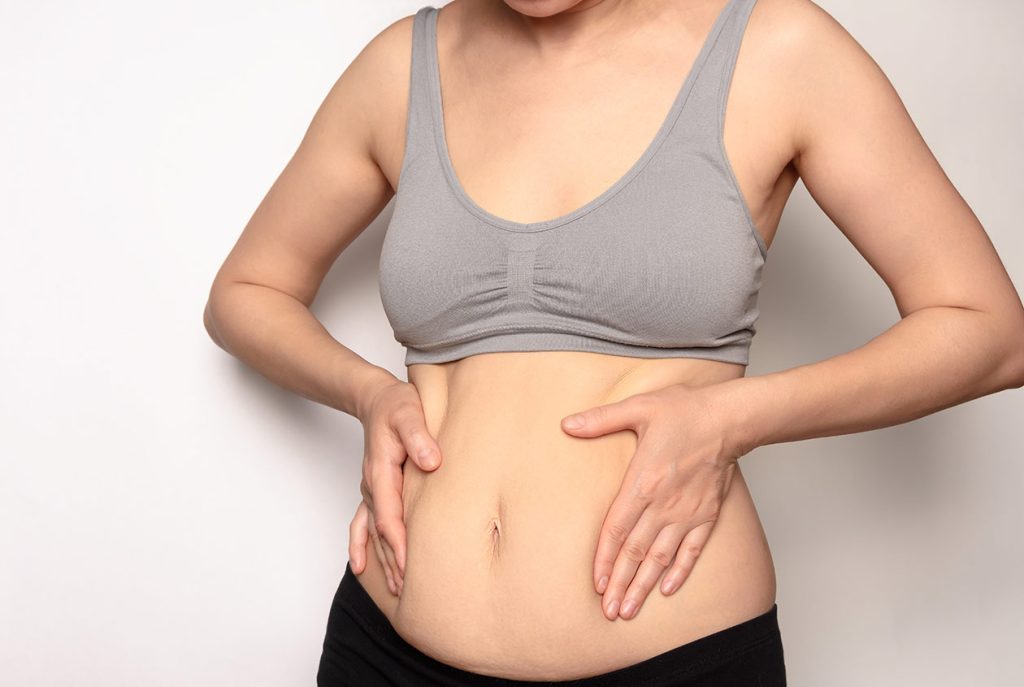 In the hands of a skilled and dedicated surgeon like Dr. Gordon Andan, abdominal liposuction can be a safe and effective way to achieve a more contoured and defined midsection. Dr. Andan is a board-certified cosmetic surgeon specializing in body contouring procedures, including liposuction. He takes a personalized approach to each patient, carefully evaluating their unique anatomy and goals to create a customized treatment plan to deliver results that will change your body and your life. Are you ready to experience abdominal liposuction at New York Surgical Arts? Call (516) 746-0155 today or fill out our online inquiry form at your convenience.
Follow the NYSA blog for behind-the-scenes info on the world of cosmetic improvement.
More About Abdominal Liposuction
Around 30 years ago, modern liposuction was introduced to the world. [1] However, the procedure was associated with complications, leading to doubts about its safety and efficacy. Over time, advancements were made to the liposuction technique to address the concerns raised by earlier procedures.
In the 1980s, the tumescent technique was introduced, which involved injecting a solution of saline, lidocaine, and epinephrine into the fat to be removed. [1] This technique helped reduce bleeding and made it easier to remove fat cells, resulting in a safer and more effective procedure. [2] Tumescent liposuction has become the standard, but even more incredible advances have emerged to help patients create the body of their dreams.
Today, liposuction is a well-established and popular cosmetic surgery and one of the top five cosmetic procedures overall. [3] The procedure has been refined over the years to become safer, less invasive, and more effective, with a lower risk of complications. Patients can now achieve dramatic results with minimal scarring and downtime, making liposuction an attractive option for those seeking to improve their body contours and achieve a more youthful, toned appearance.
Here are the abdominal liposuction techniques Dr. Andan offers his patients:
360° Lipo – A comprehensive body contouring procedure that targets multiple body areas, including the abdomen, flanks and back, to provide a more sculpted and toned appearance from all angles.
VASER Hi-Def Liposuction uses ultrasonic energy to break down and remove fat cells, resulting in a smoother, more natural-looking body contour with less discomfort and downtime than traditional liposuction. With VASER Hi-Def, patients can experience incredible abdominal etching, selectively removing fat from specific areas. The procedure is typically performed on patients who are already fit but want a more sculpted and athletic-looking body.
VASER with Renuvion is a combination liposuction procedure that uses VASER liposuction to remove excess fat and Renuvion (J-Plasma) to tighten loose skin. The procedure can provide patients with a smoother, tighter, and more natural-looking abdomen.
What are the Benefits of Abdominal Liposuction?
Abdominal lipo can be an effective solution for patients with extra stubborn fat, loose skin, or those who want more definition in their abdominal region. Many patients report that after undergoing abdominal liposuction, their clothing fits better, and they feel more comfortable wearing form-fitting clothes and bathing suits or bikinis.
After liposuction, patients also report having a more balanced and proportionate appearance between the upper and lower body; this can be particularly beneficial for patients with a pear-shaped body or excess fat in the lower abdomen.
Due to the reduced stomach bulge, patients who undergo abdominal liposuction may find it easier to engage in physical activity, such as running, cycling, or yoga. Furthermore, patients with excess fat in the abdominal area may find everyday activities, such as sitting or bending over, uncomfortable or difficult. After undergoing abdominal liposuction, these activities may become easier and more comfortable.
Finally, patients can expect to feel more confident and happier with their appearance after undergoing abdominal liposuction, leading to a more positive outlook on life and increased enjoyment of daily activities and social interactions.
Before and After Photos
Candidates for Abdominal Liposuction
The ideal candidate for abdominal liposuction is someone who:
Has excess fat in the abdominal area that has been resistant to diet and exercise.
Has a stable weight and is not significantly overweight. Abdominal liposuction is not a weight loss solution and is not suitable for individuals who are significantly overweight or obese.
Has good skin elasticity. Liposuction can remove excess fat but not tighten loose or sagging skin. Patients with poor skin elasticity may not achieve optimal results with liposuction alone and may require additional procedures, such as VASER with Renuvion or abdominoplasty ( tummy tuck).
Is in good overall health. Patients with certain medical conditions, such as diabetes, heart disease, or a weakened immune system, may not be suitable candidates for liposuction.
Has realistic expectations for the outcome of the procedure. Patients should understand that liposuction is not a magic solution and that results will depend on factors such as the amount of fat removed, the patient's skin elasticity, and the patient's commitment to maintaining a healthy lifestyle after the procedure.
Discuss your candidacy for abdominal liposuction with a qualified surgeon like Dr. Andan. Schedule your appointment today by calling (516) 746-0155 or filling out our contact form.
Personal Consultation
During your consultation appointment with Dr. Andan, you will have the opportunity to discuss your goals and concerns regarding abdominal liposuction. The consultation is a critical part of the process. It allows Dr. Andan to evaluate your candidacy for the procedure and to provide personalized recommendations based on your unique needs and goals.
Here's what you can expect during your consultation appointment:
Medical History Evaluation – Dr. Andan will begin by reviewing your medical history to ensure you are a suitable candidate for liposuction. He will ask about your medical conditions, medications, and past surgeries.
Physical Examination – Dr. Andan will examine your abdominal area to assess the amount of fat and skin elasticity. He may also take measurements and photographs to help evaluate your candidacy and to track your progress after the procedure.
Discussion of Goals and Expectations – Dr. Andan will ask about your goals and expectations for the procedure. He will help you understand what can realistically be achieved with abdominal liposuction and discuss any limitations or risks associated with the procedure.
Personalized Treatment Plan – Based on your goals and physical evaluation, Dr. Andan will create a personalized treatment plan for you; this may include the amount of fat to be removed, the techniques to be used, and any complementary procedures recommended to achieve optimal results.
Risks and Benefits – Dr. Andan will discuss the risks and benefits associated with abdominal liposuction to ensure you are fully informed before deciding on the procedure. He will also answer any questions and provide detailed pre- and post-operative care instructions.
Your consultation appointment with Dr. Andan will allow you to ask questions, share concerns, and work together to create a customized plan for achieving your desired results. Dr. Andan will be with you every step, from the initial consultation to the post-operative recovery period, to ensure you achieve the best possible outcome from your abdominal liposuction procedure.
Preparation for Your Surgery
Dr. Andan will provide specific pre-operative instructions to follow in the days and weeks leading up to your surgery. Here is an overview of what you can expect:
Arrange for transportation home after the procedure
Arrange for time off work
Prepare your home for recovery
Avoid certain medications and supplements
Optimize your health
Stop smoking
Please contact our office for guidance if you have any questions or concerns about surgery preparation.
The Procedure
Abdominal liposuction can be performed using various techniques, each with unique benefits and uses. Dr. Andan will help determine the best technique for you based on your needs and goals. Regardless of which technique is used, abdominal liposuction is performed on an outpatient basis, meaning you can go home the same day as the procedure.
Tumescent Liposuction Procedure
All liposuction involves injecting a tumescent solution into the treatment area before removing fat cells. The solution helps to minimize bleeding and discomfort during the procedure and also helps to make the fat cells easier to remove. The procedure can be performed under local or general anesthesia, depending on the extent of the treatment.
The 360 Lipo Procedure
360 lipo is a comprehensive approach to liposuction that involves removing fat from the entire torso, including the abdomen, waist and back. The procedure is performed under local or general anesthesia and typically takes 3-4 hours. Dr. Andan will use traditional and power-assisted liposuction techniques to remove fat from the target areas, resulting in a smoother, more contoured appearance.
The VASER Hi-Def Procedure
VASER hi-def is a specialized form of liposuction that can accomplish abdominal etching. Dr. Andan will use precise sculpting techniques to create a more defined, toned look in the abdominal area. The procedure is performed under local or general anesthesia and involves using ultrasonic energy to liquefy fat cells before they are removed from the body.
The VASER with Renuvion Procedure
VASER with Renuvion is a newer liposuction technique that combines VASER liposuction with Renuvion, a non-invasive skin tightening treatment. The procedure involves using ultrasonic energy to liquefy fat cells before they are removed from the body, followed by applying Renuvion to tighten the skin in the treated area. Combining these two treatments can provide a more comprehensive, long-lasting result.
Immediately after the procedure, you will be taken to a recovery area, where you will be monitored by medical staff for some time before being discharged. You will need someone to drive you home and stay with you for the first night.
Recovery After Surgery
In the first few days after the procedure, you can expect to experience discomfort, swelling, and bruising in the treated area. Dr. Andan will prescribe pain medication to help manage any discomfort, and you will be advised to wear a compression garment to help reduce swelling and support the treated area.
You will also be advised to avoid strenuous activities, including exercise and heavy lifting, for several weeks after the procedure. You will need to take time off work for proper healing and recovery.
The length of the recovery period will depend on the specific technique used and the extent of the procedure. Most patients can return to normal activities within a week after the procedure.
What are the Results of Abdominal Lipo?
Patients who undergo abdominal liposuction are often thrilled with their results. It may take several months for the final results to become fully visible as the swelling and bruising subside. After recovery, they typically see a slimmer, more contoured appearance to their abdomen, which can help boost their confidence and self-esteem. Clothes may fit better, and they may feel more comfortable wearing outfits they didn't dare to wear before.
The enhanced muscle definition achieved through techniques like VASER hi-def can give patients a more toned, athletic look that they may have previously struggled to achieve through diet and exercise alone.
Patients may also find that they are more motivated to maintain a healthy lifestyle after their procedure, knowing their efforts will be more visibly rewarded with a more toned and sculpted physique.
What is the Cost of Abdominal Liposuction in Manhattan?
Your consultation appointment will help you to determine how best to budget for your procedure. Dr. Andan and his staff are happy to work with you to determine which financing option will help you afford the body of your dreams. To get started, call (516) 746-0155 today! We welcome patients from New York, Long Island, and across the globe.
References
Sterodimas, A., et al. "Thirtyfour years of liposuction: past, present and future." Eur Rev Med Pharmacol Sci 16.3 (2012): 393-406. http://www.europeanreview.org/wp/wp-content/uploads/1256.pdf
Pitman GH, Aker JS, Tripp ZD. Tumescent Liposuction: A Surgeon's Perspective. Clinics in Plastic Surgery. 1996;23(4):633-641. https://doi.org/10.1016/S0094-1298(20)32560-8
Rohrich RJ, Savetsky IL, Avashia YJ. Assessing Cosmetic Surgery Safety: The Evolving Data. Plastic and Reconstructive Surgery – Global Open. 2020;8(5):e2643. https://doi.org/10.1097/GOX.0000000000002643