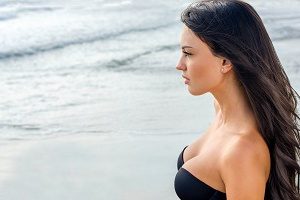 For women considering breast augmentation surgery, there's a range of breast implant options to choose from. We've compiled a list to help you understand some of the key differences between the implants as well as the advantages of each type.
1. Silicone Implants
There are two main materials that all breast implants are made of: silicone and saline. Silicone is a substance that closely resembles real breast tissue in look and feel, which is a big reason why silicone implants are such a popular choice. Because silicone implants are made of a cohesive silicone gel, they can come in a variety of shapes. When compared with saline implants, silicone implants are less likely to show visible signs of rippling and often have a more natural look.
2. Saline Implants
Saline implants are filled with a sterile saltwater solution and are uniformly round. One advantage of saline implants is that they can be filled after they've been placed within the breast pocket, so during breast augmentation, only small incisions are necessary. Although leaks or ruptures are uncommon, they're immediately visible with saline implants and the saltwater solution is harmlessly absorbed by the body.
3. Gummy Bear Implants
Gummy bear implants are a type of silicone implant that are shaped to mimic the breasts' natural slope. Also referred to as anatomical or tear-drop implants, gummy bear implants get their name from the dense silicone gel they're made of, which is form-stable and maintains its shape. In addition to holding its shape, another noted advantage of gummy bear implants is that they're not likely to ripple or leak.