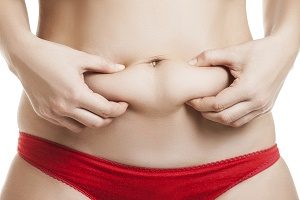 A tummy tuck, or abdominoplasty, isn't a one-size-fits-all procedure. There's a lot that goes into determining which of the various types of tummy tuck surgery is best for you.
Here we'll look at two types of tummy tucks, what they can and can't do and who they're most appropriate for.
Mini Tummy Tuck
A mini tummy tuck, also called a partial abdominoplasty, is recommended for those who are within 10 percent of their ideal body weight. Only treating the area below the navel, this type of tummy tuck is best for men and women who just require a minor amount of correction.
Full Tummy Tuck
The majority of tummy tuck candidates see the best results from a traditional tummy tuck.
A full tummy tuck is the type performed most often. This traditional approach to tummy tucks involves a hip-to-hip incision that's typically placed low enough to be hidden by everyday clothing and swimwear.
A full tummy tuck includes muscle repair in addition to removing loose skin and a limited amount of fatty tissue.
Which Type of Tummy Tuck Is Best?
Generally speaking, people who only need minimal contouring with minor to no muscle repair are the best candidates for a mini tummy tuck, while more significant muscle separation or loose skin above the navel are good indicators that a full tummy tuck is likely the better choice for you.
However, keep in mind that there really isn't one type of tummy tuck surgery that's better than the other, only the type that's best for the person involved.
Choosing a skilled cosmetic surgeon like Dr. Andan and scheduling a consultation that includes a physical evaluation are the first steps in determining the type of tummy tuck technique that will bring out the best in your body.