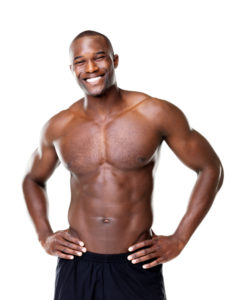 If you think liposculpture is just for women, think again. Men are opting for an increasing number of cosmetic procedures each year and liposuction is one of the most common male cosmetic surgeries. Many men have found that body contouring with lipo can add the finishing touches to their physique, which may not be possible through diet and exercise alone. Here are some common ways men benefit from liposculpture.
1. Enhance Abdominal Muscles
Even with diet and exercise, some pockets of belly fat can be difficult to get rid of, thus leaving the abdominal muscles undefined. Lipo can reduce the fatty layer just beneath the skin, which helps men to achieve the sculpted look they want.
2. Sculpt the Torso
In a similar way, liposculpture can help men get a leaner, more toned look by reducing the appearance of love handles that can be as stubborn as abdominal fat. Keep in mind that the ideal candidate for this procedure will be at or close to his target weight before considering liposuction for the final touches.
3. Increase Upper Arm Definition
Following significant weight loss, the upper arms can be problem areas for many men. This part of the body can store excess fat and skin, which can be tightened and toned using Smartlipo™, an advanced lipo technique, for a more masculine look to the upper body.
4. Treat Double Chin
As with other parts of the body, the chin region can be particularly troublesome for some men. Liposculpting can help to remove excess fat in this area for a more defined jawline and neck.
5. Male chest / Gynecomastia
Gynecomastia in men is mostly treated with a combination of liposuction of the chest and removal of the breast gland through a tiny incision. In some cases, especially men with no glandular enlargement but with excess fatty tissue with a lack of definition of a chest, liposuction alone is ideal to sculpt the chest to enhance and define the pectoral muscles.