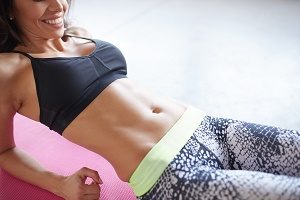 You've probably seen celebrities on Instagram showing off their waist training efforts.
More and more women are cinching up their midsections in tight corsets and other "training" devices in hopes of sculpting and slimming their stomachs.
Does Waist Training Actually Work?
The truth is that short-term corset use doesn't provide any kind of lasting results. Long-term waist training might change your body, but not for the better.
While using moderate compression around the abdominal area is not necessarily dangerous or unhealthy, experts warn against going too far.
Compressing your waist for extended periods can cause a host of health problems from acid reflux and leg swelling to chronic pain and organ damage.
360 Degree Liposuction: A Real Solution
When you take the waist trainer off, the fat cells will still be there.
Using corsets and other training gear might give you a slimmer appearance when you're wearing clothes, but waist training won't really make you thinner.
Liposuction is an effective way to remove fat and tone your midsection, and the results can last for many years. 360-degree liposuction uses smaller, less invasive tools to remove fat from a variety of areas on all sides of the body.
This allows Dr. Andan to delicately shape your waist from the front, sides and back as needed, so you'll look great from every angle.
A Word to the Wise
Don't jump on the waist training bandwagon. This fad is misleading to women who hope to change their appearance. It can also potentially damage your health.
Book a liposuction consultation with Dr. Andan to discuss how you can achieve your aesthetic goals safely and effectively.